High compressive strength
Ultracaps + offers a high compressive strength which minimizes the risk of fracturing the restoration. High compressive strength ensures a tough, durable and long lasting restoration.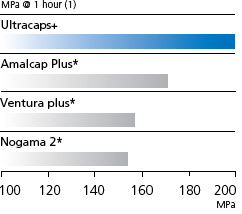 Setting times
The working and setting times allow large restorations to be condensed and carved without difficulty.

Capsule System

The SDI capsule system is designed to give consistent and accurate mixes every mix.
The plungers denote the spill size:

the rest of the capsule denotes the setting speed: